Poverty in Kansas and the United States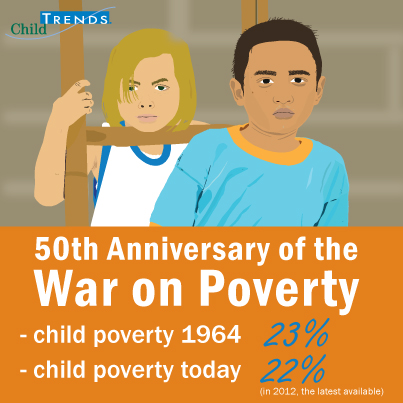 2014 Kansas Conference on Poverty July 16 - 18
A sharp rise in poverty in Johnson County, Kansas
Our American Story: Stories from the War on Poverty
Half in Ten Campaign: We can do more for mothers
The Nation: Mothers build economy for the rest of us
New efforts to prevent hunger in Kansas schools
New anti-poverty program comes to Chanute
Poverty takes its toll on Kansas schools
5 Things we can do cut poverty TODAY

For a printable pdf of the above table, click here.
---
Wichita Eagle Editorial: Combat Child Poverty
Sobering but not surprising, the news that childhood poverty has worsened in Kansas should draw the attention not only of Gov. Sam Brownback but of all Kansans.
Because the 2013 Kids Count report released this summer by the Annie E. Casey Foundation is based mostly on 2011 data, it's the first to reflect the state under the leadership of the GOP governor, who counted reducing childhood poverty and improving fourth-grade reading among the key goals for his administration and whose childhood-poverty task force met again in June. Read more.
We live in the richest country in the world, and yet 1 in 7 of every Americans lives in poverty. That's forty-six million Americans, more than one in five children and nearly one in three single-parent families who are poor. Despite the tremendous need in 2012, Congress did virtually nothing to improve their lives. Read about the Kansas congressional record.
Poverty affects more Americans than we think, rising poverty among children is particularly harmful to our society, poverty increase health risks, and seven more good reasons to be a warrior against poverty:
10 Reasons why cutting poverty now is good for our nation
Read more about Poverty in Kansas and the United States at the Poverty News Archive.
Read Reports from the Institute on Children, Povety and Homelessness.