Assisting Our Heroes: Creating the Kansas Military Legal Network
Did you know:
More than 6,000 service members will return to Kansas from deployment in the next 12 months?
Thousands of Kansans face special legal issues due to the military status?
Kansas Lawyers have special education and skills that can assist active duty service members and those transitioning back to civilian life. 
FREE CONTINUING LEGAL EDUCATION PROGRAM
3 hours of CLE 
Friday, September 23, 2011
1:00 – 4:00 p.m.
On base at Ft. Riley, Kansas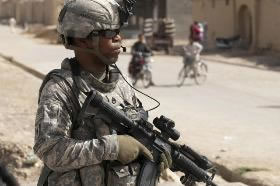 How can you help?
Sign up for the American Bar Association
Military Pro Bono project
http://www.militaryprobono.org/about/item.668-Information_for_Attorneys_Interested_in_Pro_Bono_Cases 
Starting in October, you will receive a weekly email listing Kansas cases of active duty service members who are seeking pro bono services to resolve civilian legal issues involving low income enlisted personnel.  All referrals are made by JAG officers, who can provide advice, but not court representation, to service members.  The ABA compiles referrals and emails them to Kansas attorney volunteers.  You have complete choice in reviewing the list and volunteering for a case.
Become a part of the 
Kansas Military Legal Network
Through this training, which is offered in appreciation of your consideration of helping to meet this legal need, you can choose to be included on the referral list in your geographic and legal areas.  This list is used by JAG staff and Community Support Coordinators to provide referrals to military service members and their families who are seeking legal help.  You decide whether you charge full fee or reduced fee or pro bono services to these referred clients.  
Periodic Continuing Legal Education events are planned to:
1.  recruit attorneys to this network,
 2.  provide information to help participating attorneys better serve referred clients,  and,
3.  create a community of support for attorneys working in this legal area.
Training Agenda
12:45 p.m.        Registration begins
1:00 p.m.         Welcome
Dean Thomas J. Romig, Washburn Law School
Military consequences of civilian court involvement
Amy Bipes and 1LT Joshua Dickinson 
Ft. Riley JAG office
2:00 p.m.         Service members Civil Relief Act
CPT J. Patrick Vincent and 1LT Bruce Nessler,
Ft. Riley JAG office
2:50 – 3:10      Break
3:10 – 4:00      Debt Collection remedies in Kansas for Service Members and their families
Marilyn Harp, Kansas Legal Services
YOU MUST REGISTER IN ADVANCE
Contact Becky Wyre, Kansas Legal Services
email: wyreb@klsinc.org  or  phone: 785-270-5664
You will receive a reply via email with a map to the training location on base.
Space is limited for this event