KLS Receives Diversity Award
The Kansas Bar Association presented its Annual Diversity Award to Kansas Legal Services on June 15, 2012.  The KBA program for the event said this about KLS:
"Kansas Legal Services is the statewide provider of civil legal services to low and moderate income persons and operates as a Kansas not-for-profit corporation with a diverse 23-member board of directors. While the majority of the board is attorneys, many of its board members are low income Kansans.
"The commitment to diversity is part of a plan to provide excellent service to its clients. A preference for Spanish-speaking professional and support staff aid in communication with that part of the Kansas low income community that speaks Spanish as a primary language. The gender and racial diversity of the KLS staff reflects the low income population as well. In 2011, KLS provided legal or mediation services to 30,000 Kansans. In addition, the job training program assists low income Kansans in overcoming the effects of poverty on their lives.
"Marilyn Harp serves as KLS' executive director and John K. Chenoweth, a Fredonia attorney, serves as the board's president."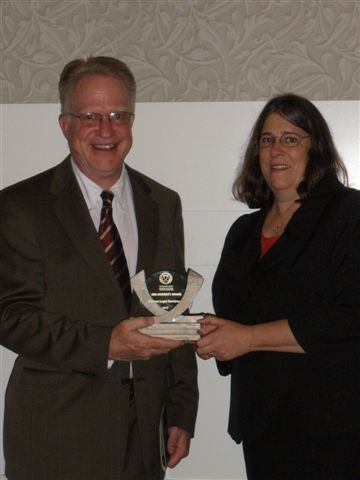 John Chenoweth, Kansas Legal Services Board of Directors President and Marilyn Harp, KLS Executive Director, hold the Diversity Award.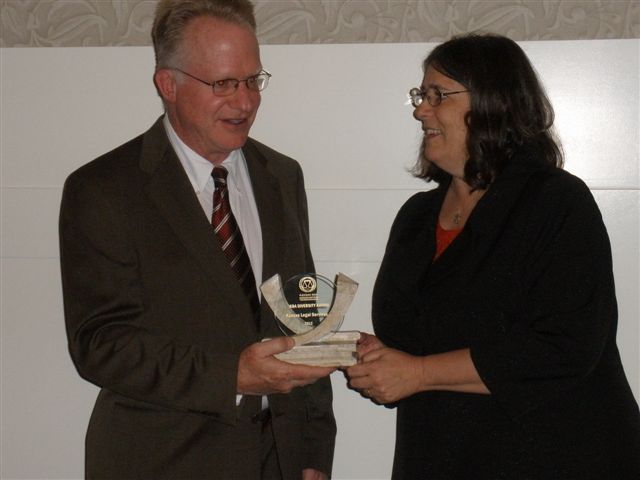 John Chenoweth and Marilyn Harp.
This award recognizes a law firm, corporation, governmental agency, department or body, law-related organization that has significantly advanced diversity by its conduct as well as by the development and implementation of diversity policies and strategic plans which include the following criteria:
A consistent pattern of the recruitment and hiring of diverse attorneys;
The promotion of diverse attorneys;
The existence of overall diversity in the workplace;
Cultivating a friendly climate within a law firm or organization toward diverse attorneys and others; 
Involvement of diverse members in the planning and setting of policy for diversity; 
Commitment to mentoring diverse attorneys, and; 
Consideration and adoption of plans to continue to improve diversity within the law firm or organization,whereas; 
Diversity shall be defined as differences of gender, skin color, religion, human perspective, as well as disablement.