KLS - KC's Attorney Patricia Thomas Named a Legend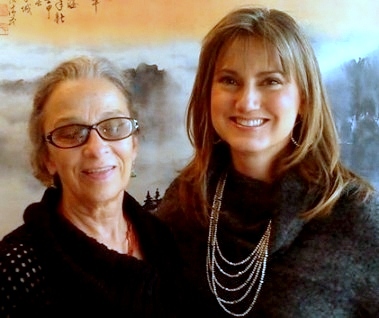 Legend Patricia Thomas (left) and Lisa Garza, both staff attorneys at Kansas Legal Services - Kansas City 
The Wyandotte County Bar Association celebrated KLS staff attorney, Patricia Thomas, with a Legends of the Bar presentation at their March meeting. KLS staff attorney, Lisa Garza, was elected to their Board of Governors and nominated Patricia for the honor.  Excerpts from Lisa's speech follow below.* 
"Patricia Thomas, a.k.a. PT, was born in Kansas City, Missouri and grew up in the Waldo area.  Although she has traveled and lived on three different continents, she has made Kansas City her home.
 "On February 1, 1999, PT began her tenure with Kansas Legal Services.  Here, she served as the interim office manager in 2004 and 2005.  
"In 2007 PT got together with KU law professor David Gottlieb, and local physician Dr. Sharon Lee and collaboratively pioneered a medical/legal clinic where doctors and lawyers could work together to solve medical problems caused by legal issues.  
"In January, 2008 the Southwest Boulevard Medical Legal Partnership opened its doors to the public.  The clinic offered internships to KU law students and PT mentored and supervised on average 10 students per semester.  
"Patients who needed a variety of legal services were able to access legal representation by interns under her careful supervision.  What started out as a vision to serve a population denied medical and/or legal services has evolved into the Family Health Medical Legal Partnership which now employs a full time attorney and a full time paralegal in addition to the medical professionals staffed full time.  
"The ripple effect PT has made in our community can be felt by each student who has gone on to practice influenced by her compassion and genuine service to litigants.  Her ability to legally analyze issues has proven to stand up on appeal but more importantly her passion to see justice for all has stood the test of time.  
"PT has served more than 7,000 cases during her time with KLS. 
"Currently, PT focuses her full time and attention to those whose cases would seem utterly hopeless without the help of legal aid. She works tirelessly taking on as many cases as any one attorney can possibly manage, all of which share an element of despair on either the part of the litigant or the case in general.  
"Patricia is a fierce advocate for justice and equal access to it for those less resourceful.  It is rare for PT to turn away a case, and the more challenging the issues the more she rises to meet those challenges.   I am honored and privileged to be mentored by her and to work side by side learning by her example.  The opportunity to work with her on a daily basis inspires me to provide exceptional and quality service to those who otherwise would not have the means to obtain legal counsel."
*Read the full transcript of Lisa Garza's speech about Patricia here.