Topeka Moving Ahead Program (TMAP) ends after 11 great years
TMAP graduated over 800 persons since 2003  
Started in 2003 as part of the Topeka-Shawnee County Continuum of Care, the Topeka Moving Ahead Program (TMAP) was a job readiness program that helped individuals and families break the cycle of homelessness through housing and employment. TMAP assisted participants in developing their skills, obtaining employment, and barrier resolution. HUD was the major funder for this project.
Kansas Legal Services, through its Employment Training Division, was the lead agency for TMAP. Many other service providers in Topeka helped with addressing the variety of challenges faced by TMAP participants, and will step up to help persons now that TMAP has ended.
The service structure for TMAP included our partnership with the Topeka Rescue Mission who housed each participant. As a comprehensive service model, the success of TMAP depended upon a high degree of collaboration among community service providers.
Services provided to TMAP participants included:
Individual Case Management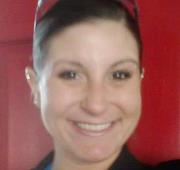 TMAP Graduate Francesca