Foster Children and Aged-out Youth in Kansas Receive Free IDs
DCF and KDOR team up to help young adults shift into independence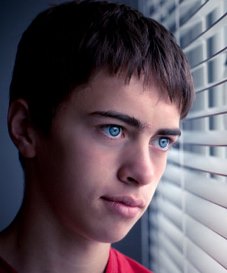 TOPEKA –Kansas Department for Children and Families (DCF) Secretary Phyllis Gilmore and Kansas Department of Revenue (KDOR) Director of Vehicles Lisa Kaspar are pleased to announce a new service. The service is available for foster children and youth who have recently aged out of foster care. These young adults will now be able to get a photo ID at no cost. During fiscal year 2014, 331 young people aged out of foster care. Many of them do not have the needed photo ID to make this life transition. Photo IDs are needed for enrolling in school, applying for employment, enlisting in the military, etc.
"Children in foster care deserve every opportunity to succeed in life," Governor Sam Brownback said. "This is one small way we can help ensure they are able to build the future they deserve. Having something as simple as a photo ID will be one less hurdle they will have to overcome."
Two Kansas Youth Advisory Council members approached DCF leaders recently and advised them of this need. One of the two KYAC members, Christian Sauerman, is now a DCF employee. He says he's pleased to see this plan become a reality.
"Being able to get a photo ID is so important. For many youth in foster care, obtaining necessary documents and records can be difficult, and when you're trying to transition to life on your own, you need all the help you can get," Sauerman said.
KDOR is waiving the first ID fee for current/former foster care youth ages 16 to 23. DCF will pay for the cost of the photograph. KDOR is not charging DCF the processing fee. Youth must present a form that is approved by the child welfare provider or DCF staff and a birth certificate. Other forms of ID, such as a social security card or proof of home, are not required.
"We're pleased to work with DCF to help these young people start their new, independent life. A photo ID is necessary for so many parts of life, from securing housing to getting a job," Kaspar said.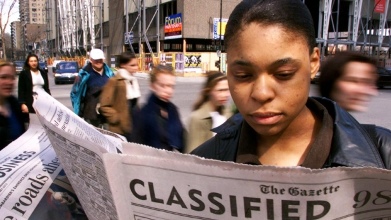 Currently, 424 youth in foster care are preparing for this transition. Some of the challenges they face include having a good support system; safe, decent and cheap housing; gainful employment; and behavioral health support. In addition to the new photo ID service, DCF also offers other programs and services to help youth transition to life after foster care. DCF has an Independent Living (IL) program. Helping youth become successful adults involves joint efforts between multiple agencies and multiple programs.
"As an agency, we seek to provide the support youth need to become self-sufficient," DCF Secretary Phyllis Gilmore said. "Over the past several years, we have added staff to our IL program to enhance services and supports available to current and former foster youth. It's important that youth have these tools to become productive and fulfilled members of the community."
Independent Living offers supports in the following areas:
Secondary education support, including GED completion
Post-secondary education support through the Kansas Foster Child Education Assistance Act—tuition and fees are waived through the semester the youth turns 23, at any Kansas Board of Regents vocational-technical school, community college or state university.
Help with financial aid for school—education and training vouchers are available.
Learning to live on their own—grant funds are offered to secure an apartment and furniture and repair a vehicle.
Seeking and maintaining employment—funds help people with clothing/uniforms for jobs.
Career training—education and training vouchers and the tuition waiver are available.
Applying for medical benefits—aged out medical coverage is available until the last day of the month that the youth turns 26.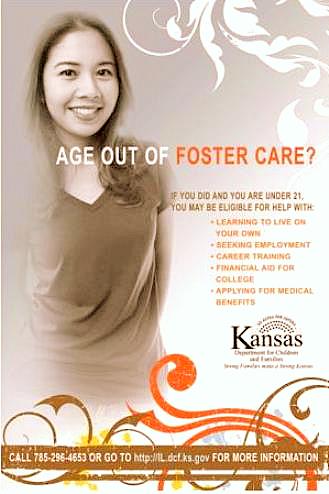 How helpful do you find the information on this page?