Thousands of Kansans mistakenly told they are off Medicaid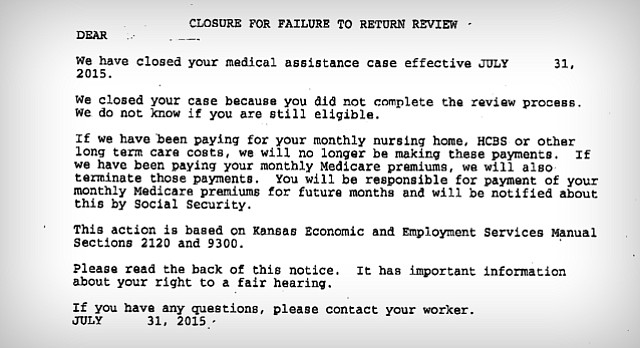 July 31, 2015
TOPEKA — The Kansas Department of Children and Families said this week that a computer glitch resulted in thousands of Kansans, including many elderly and disabled individuals, receiving letters telling them in error that their Medicaid coverage had been canceled.
DCF spokeswoman Theresa Freed said the error stemmed from the fact that the department is switching over to a new computer system that manages Medicaid eligibility applications, replacing a "legacy" computer system that has been in use since the early 1980s.
"The letters were sent in error," she said. "However, within a week, everyone who received the initial letter will have a new letter or an accurate report of their account."
Medicaid is a health insurance program for the poor. It is managed by state governments but it is jointly funded with state and federal dollars. In Kansas, the federal government pays about 60 percent of the cost.
Eligibility is based largely on income and the number of people in the household. There are different eligibility requirements for children, parents, elderly and disabled individuals.
Each year a person receives coverage, the state routinely asks for verification of the person's current income and other household information to determine if he or she is still eligible.
Whenever a Medicaid recipient, or that person's family or caretaker, fails to respond to the request for updated information, the person is typically dropped from the program. DCF then sends a letter notifying the person of the action.
People who are dropped can be readmitted once they provide the required information.
Freed said that some of the cancellation letters mailed out in July were legitimate, and those individuals or families need to contact DCF to be reinstated. She said those letters were mailed in envelopes that have a DCF logo on them, but the letters sent by mistake had no such logo.
She also said the computer glitch only caused letters to be generated. None of those individuals who still qualify for Medicaid were taken off the Medicaid rolls or had their benefits suspended.
Peggy Wallert, director of community relations and development for Cottonwood Inc., of Lawrence, an agency that serves people with developmental disabilities, said some of its clients had received the letters.
"We did have families who received the letter, but because we had some advance warning that it was a mistake, we were able to notify those families, which we did," Wallert said.
Angela DeRocha, spokeswoman for the Kansas Department for Aging and Disability Services, said some individuals in nursing homes also received the mistaken letters.
"We got a few calls," she said. "I suspect DCF got the vast majority of them. But once we reassured them that this was not happening, they were good with that. It's unfortunate that this happened."
Freed said that everyone who received one of the mistaken letters will have received a follow-up letter explaining the error by the end of next week.