Program Provides Relief For Drivers With Suspended Licenses in Wichita
By Carla Eckels   Nov. 23, 2015  KMUW Wichita
Nearly 8,000 motorists in Wichita have had their driver's licenses suspended this year. Many of them find it difficult to pay the fines to be reinstated.
Residents will get a second chance to resolve traffic obligations in December through a new amnesty program offered by the city.
The amnesty program will assist residents who have not resolved their traffic citation, such as for speeding or for failure to yield. Donte Martin, municipal court administrator for the City of Wichita is hoping people will take advantage of the program.
Donte Martin, municipal court administrator, City of Wichita
"A person who had a traffic citation who didn't comply with the citation, namely they didn't set the matter for court, they didn't appear in court or they didn't pay the citation, [and] that citation remains outstanding. That obligation remains owed," Martin says. "So during the amnesty program, we're going to encourage people to come in and voluntarily resolve their obligations."
Fines and fees can add up quickly. For example, if a driver is ticketed for speeding 10 mph over the limit, he may be required to pay about $120 in fines and costs. The total amount owed prior to amnesty could end up being about $350 due to fines, court costs, warrant fees, city and state reinstatement fees, and collections fees. If drivers have multiple ticket infractions, it can add up.
"We will recall warrants. We will wave city reinstatement fees. We will also wave collection fees if they've been assessed, and basically give people a chance to get their licenses reinstated," Martin says.
The program was created after Martin and Wichita City Manager Robert Layton heard comments at a standing-room-only meeting hosted by Sunflower Community Action.
"We heard firsthand from area residents the impact that suspended driver's licenses were having on their ability to obtain employment and having a negative impact to their quality of life," Martin says.

Sunflower Community Action organizer Djuan Wash says the grassroots organization has heard hundreds of complaints about residents having their licenses suspended.
"It's really an economic issue because it prevents people from being able to get back and forth to work, back and forth to church, back and forth to the doctor, so all of these things are incredibly important," Wash says. 
And he says many of the complaints are similar.
"It's a downward spirial," he says. "People end up getting a ticket, they can't afford to pay that ticket back, so they don't end up paying it. The license gets suspended, and it's just a downward cycle from there."
Wash says people often end up with multiple tickets and don't have the ability to pay.
"Some of them have thousands of dollars in fines and fees, so the city recognized that this was a problem and decided to go ahead and partner with us to provide a solution," he says.
Martin says participants in the amnesty program will still be responsible for paying any outstanding court costs and traffic fines, but not necessarily all up front.
"If a person is unable to pay in full they will be able to sign up for a payment plan that will allow them to pay the amount owed over the course of 12 months," Martin says.
In addition, Martin says there's help for the unemployed.
"Those that are unable to pay due to financial hardship or lack of employment will have the opportunity to perform community services at local agencies or attend training at workforce alliances aimed at developing job skills and gaining employment," he says. "Those performing community or work force alliance programming will receive credit toward their outstanding fines."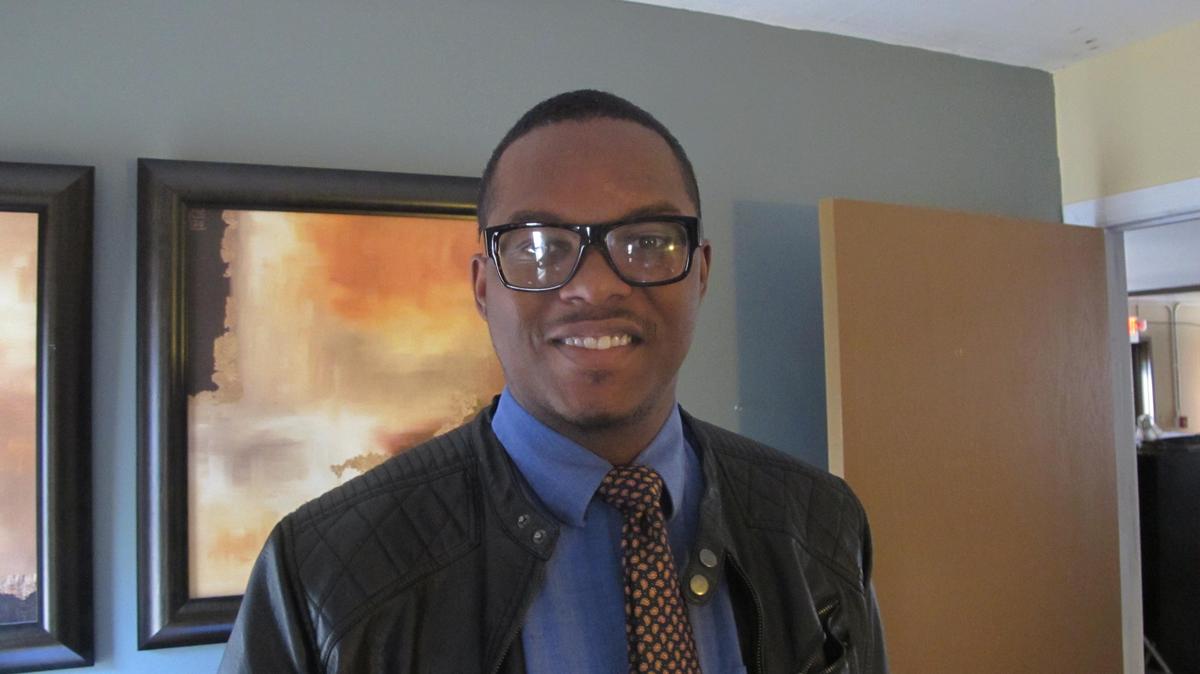 Djuan Wash with Sunflower Community Action. 
Still, Wash acknowledges some residents are a bit skeptical of taking advantage of the amnesty program--thinking it's some kind of set-up.
"They think they are going to come in and get arrested, and this program is not going to be a set up," he says. "They are waiving warrants."
The program "isn't a trick," Martin stresses.
"The program is an effort to truly help residents resolve outstanding court obligations," he says. "If a person has an outstanding warrant on a non-traffic matter, they will have an opportunity to see a judge and potentially have their court dates reset."
Martin says the amnesty program will also include the ability to obtain a restricted license.
It's the first time that the City of Wichita and the State of Kansas have partnered in offering a program that encourages residents to voluntarily resolve their obligations and obtain a restricted license.
"The benefit of the state's restricted license program is that it allows you to drive today, and it gives you 12 months to resolve outstanding court obligations," he says. "You don't have to wait for your license to be reinstated to resume driving."
Once you are approved for the restricted license, Martin says you're able drive to work, medical appointments and other court-ordered appointments.
Wash says he believes the amnesty program is a good solution, especially for those who are out of work and need a break to cover fees.
"As we canvass and we talk to people, this is an issue that touches everybody. It transcends race. We've had white people, we've had black people, we've had Hispanic people," he says. "It really touches everybody."
And the city benefits from the program as well, Martin says.
"The city benefits by responding to the citizens' needs, assisting residents and obtaining driver's licenses, and improving their quality of life," he says. "It helps the court close open cases."
The amnesty program kicks off Dec. 4 and runs through Dec. 30.
Drivers can check the status of their license through the Kansas Department of Revenue here.
For a couple years now, the State of Kansas has offered the way to get a restricted drivers license in some cases when the licenses has been suspended.  
Any Kansans with a revoked drivers license should check this out. 
Kansas Legal Services offers an interactive interview to assist Kansans with suspended driver's licenses who want to write a letter to request a restricted driver's license. Read more about that here.
Carla Eckels is assistant news director and the host of Soulsations on KUMW FM. Follow her on Twitter @Eckels.