Do Your Federal and State Taxes for Free
Let Free File do the hard work for you with brand-name software or Free File Fillable Forms for your federal taxes.
More about the IRS Free File Program.
Scroll to the bottom of the page for a link to free STATE tax filing.
Income below $66,000: Free File Software

Use free tax prep software
Software makes taxes easier
State returns available, some are free

 

 

 

 

 

 

 

The Health Care Law and Your Taxes (PDF)

 

 

Income above $66,000: Free File Fillable Forms
 

Free Fillable, electronic versions of the paper forms
Must know how to do your taxes yourself
Does math; offers only basic guidance
State tax prep is not available

 


 

Free File Fillable Forms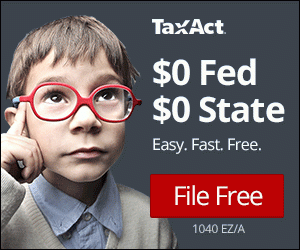 TaxAct is a good example of an IRS-approved free file service. Click on the picture above.
Another good site is My Free Taxes, a service provided by United Way and H&R Block.
---
Got a dispute with the IRS?  Let our Low Income Taxpayer Clinic staff help you resolve it -- for FREE.
---
---
Click here for