Kansas Legal Services Celebrates 40th Anniversary!
Please watch the attached presentation (at bottom) about KLS and its 40 year history, narrated by Marilyn Harp.
Download it to your desktop and choose "slide show."  Turn up your volume or your speakers.
OR you can look at a PDF of the presentation here (also attached below), with notes but no sound.
Governor Sam Brownback signed the proclamation for July 2017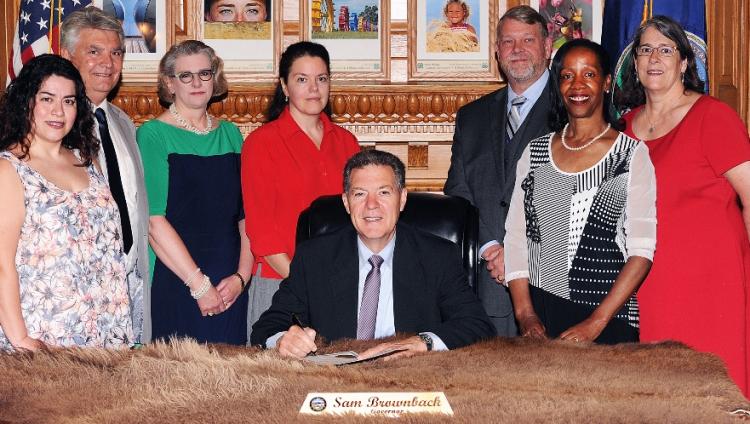 (left to right)  Gabriela Vega, KLS Board Vice President, James Murphy, KLS CFO, T.K. Shively, KLS Director of Research and Program Development, Michele Davis, Manager KLS Central Intake, Governor Sam Brownback, James Campbell, KLS Board President, Dorothy Burgess, KLS Detention Advocacy Services Paralegal, Wichita, Marilyn Harp, KLS Executive Director.
Kansas Legal Services began providing legal services to low income persons in July, 1977, as a statewide entity, and staff work in eleven offices across the state, provide services to residents of all 105 counties, and have provided legal advice or representation to hundreds of thousands of Kansans.
Kansas Legal Services provides mediation and re-entry employment training services, along with legal services, for the betterment of our community.
Support is provided by the Kansas Bar Association, Office of Judicial Administration, the State of Kansas, private foundations and the private bar.
Kansas Legal Services has reached out with technology to meet the needs of self-represented litigants through www.kansaslegalservices.org , connect with lawyer volunteers through www.klsprobono.org, and partnered with courts to provide legal information to self-represented litigants.
Kansas Legal Services is proud that 2017 marks 40 years for this essential resource in providing all Kansans with access to the justice system.