Longtime KLS - Pittsburg advocate retired after 40 years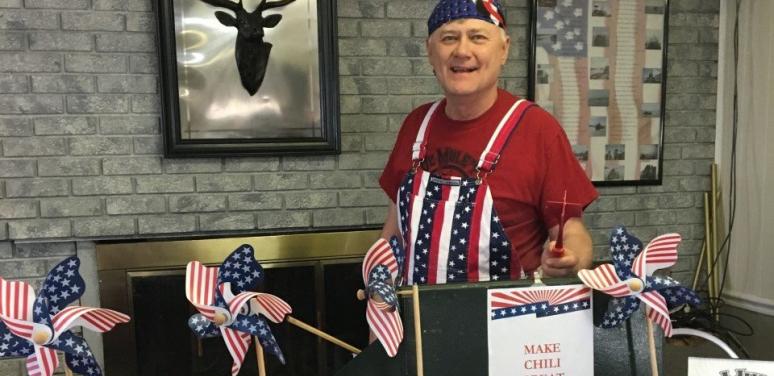 By Dustin R. Strong / dstrong@morningsun.net Copyright Pittsburg Morning Sun
Picture: After 40 years, Eric Rosenblad is retiring from Kansas Legal Services as Executive Director of KLS - Pittsburg, but will continue to dominate in area chili contests, like this one in Overland Park.
PITTSBURG, Kan. — After a lengthy career as a legal advocate, Eric Rosenblad retired Friday, December 30.
For four decades, Rosenblad, known as "the Equalizer," has advocated for the less fortunate throughout southeast Kansas in his work for Kansas Legal Services, most recently as director of the organization's Pittsburg office.
Born in Massachusetts, Rosenblad's father was a Methodist pastor from Boston who met his mother, a native Kansan, at Baker University in Baldwin City, before attending seminary in Boston. Returning to Kansas, his father served several smaller churches throughout the state.
Rosenblad attended Kansas State as an undergraduate before being accepted into law school at the University of Kansas, where he said he tried to follow the sage advice of an elder to not let his classes interfere with his real education.
Graduating in 1982, Rosenblad began his legal career with the Kansas Legal Services (KLS) office in Pittsburg, where he met his wife, Kathy, as a member of the choir at First United Methodist Church. Over 38 years together, they raised two sons and a daughter and today have seven grandchildren.
Rosenblad never went into private practice, but chose to work with KLS his entire career. As an attorney for KLS, Rosenblad represented those who could not otherwise afford an attorney.
"My job is to solve people's problems to the best of my ability," Rosenblad said. "Sometimes that means just moving the needle enough to improve their lives."
Throughout his career, Rosenblad has helped elderly clients defeat debt collectors, worked on behalf of the less fortunate by resisting state cuts to existing benefits, and stood up for victims of domestic abuse and assault.
Chief Judge of the 11th Judicial District Lori Fleming said Rosenblad's "devotion to serving the less fortunate has no doubt impacted thousands of lives. Eric's service makes us all here in southeast Kansas very proud."
Rosenblad said he has seen a lot of young attorneys come and go, but he always tried to teach them to be caring and effective litigators.
"We are currently facing a shortage of attorneys in rural Kansas," Rosenblad said. To combat this, Rosenblad has also advocated for new attorneys to set up shop in rural areas. "Practicing law in small towns is different than in the city. You have to remain civil because everyone knows each other around here."
Rosenblad said he will miss engaging with his colleagues, calling them "first-rate lawyers." But he intends to stay busy in his retirement. Still a member of several local boards, Rosenblad also has several hobbies he enjoys indulging in — especially chili cooking.
He and his wife are planning a trip to England in the near future. Coming from a musical family, Rosenblad said he has always enjoyed the huge pipe organs that are a common sight in British churches and is looking forward to seeing and listening to some in the U.K.
As he heads into retirement, Rosenblad offers his own sage advice. "Take time off and have fun. If you can't make a living in eleven months, another month is not going to help."
Last updated on .