Kansas Legal Services thanks the generous donors below who helped us by contributing in 2021 for our work for Kansas families

Law Firms and Business Donors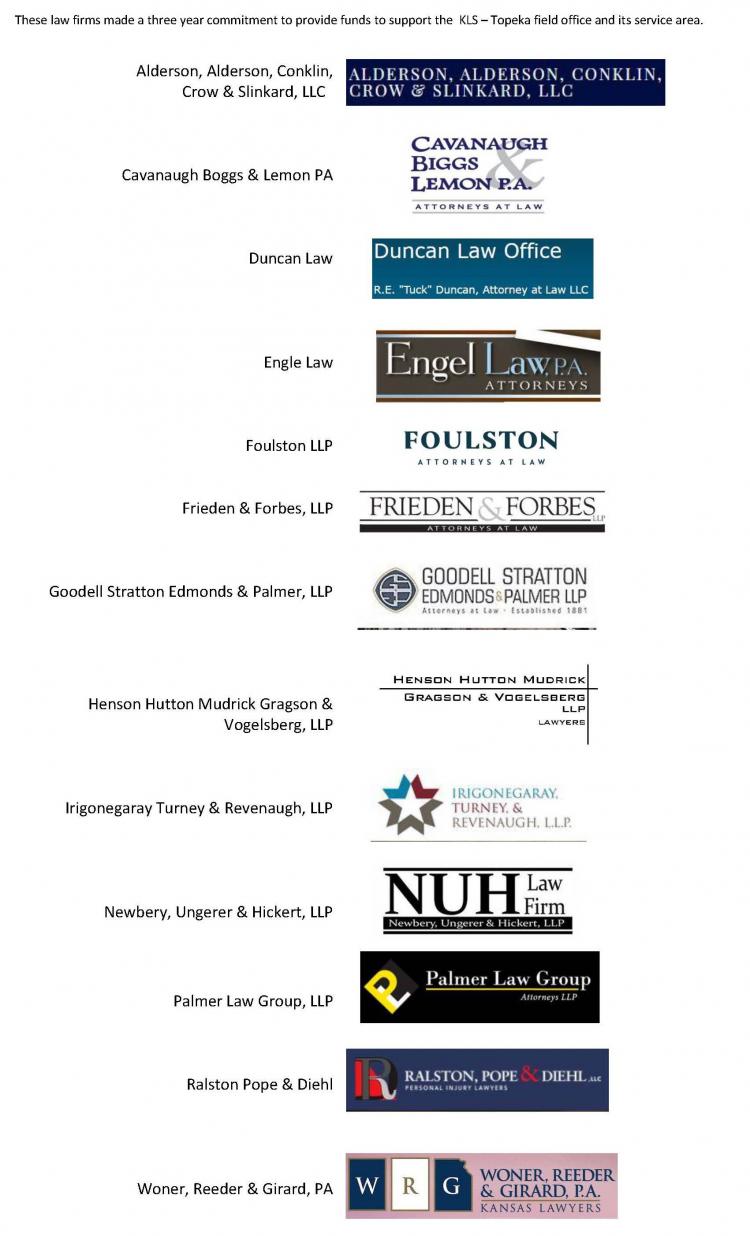 Kansas Bar Foundation Trivia Night
Charlson & Wilson  
Clark, Mize & Linville, Chtd  
Clinkscales Elder Law  
Euler Law Offices, LLC  
Galloway Wiegers & Brinegar PA
Hinkle Law Firm LLC  
Hoffman Association Law Firm
Juris Law & Mediation  
Kluin Law Office LLC  
Law Office of Clyde W. Toland, LLC
Law Office of John D. Gatz  
Martindell Swearer Shaffer Ridenour LLP
Meyer Law Firm, LLC  
Pyle Law Office  
Stumbo Hanson LLP
The Reynolds Law Firm, ,P.A.
Triplett, Woolf & Garretson, LLC
Wendy Marvin Law Office, LLC
Williams-Malone, P.A.
Hanson Beverlin & Moore, LLC
Law Office of Tammy M. Martin, Inc.
Monnat and Spurrier, Chartered
Ariagno, Kerns, Mank, & White, LLC
Franklin Law Offices, PA
Law Office of Eric R. Yost
Amazon Smiles
Benevity Community Impact Fund
Greater Horizons
Kroger  
Network for Good
The GoodCoin Foundation (Target)
Individual Donors
Charles J. Andres
Charles H. Apt III
John G. Atherton
Mark G. Ayesh
Gary L.  Ayres
Emily Jane Bailey
Anne L. Baker
Ernest C. Ballweg
Jonathan C. Becker
Mary Lou & Donald Bender
Philip J. Bernhart
Thomas & Jody Boeding
 David R. Brant
Kevin Brown
Michael C. Brown
Forrest A. Buhler
James R. Campbell
Jeffery L. Carmichael
George L. Catt
Peggy Cobb
Jennifer M. Cocking
Kimberly A. Corrigan
Whitney B. Damron
Marc C. Davis
Victor  A. Davis, Jr.
John P. DeCoursey
Patricia M. Dengler
Bradley D. Dillon
Nancy M. Dixon
Myrl L.  Duncan
RE Tuck Duncan
Prof. Linda  D.  Elrod
Mary  D.Feighny
Jack & Gloria  Focht Flentje
Beth  Foerster
Francis S.Forman
Andrew J. French
Charles L. Frickey
Everett Fritz
Lawrence Gates
Shannon Giles
Cydni K. Gilman
Jeanne Gorman
William D. Grant, Jr.
Barbara Greenwood
William H. Griffin
Angela D. Gupta
Scott C. Gyllenborg
Nathan C. Harbur
M/M Charles & Rosemary Harris
Prof. John W. Head
William H. Hensley
Elizabeth R. Herbert
Elizabeth Baskerville Hiltgen
Martha Hodgesmith
Gary House
Larry D. Irick 
Mike T. Jilka
Jill Jolicoeur
Louis Kagay
Darren K. Kearns
Matthew Keenan
Jeff Kennedy
Mark Knackendoffel
Kyler G. Knobbe
Kyler G. Knobbe
Pamela S. Leinwetter
Charles (Mike) Lennen
Blair Lonergan
R. Dan Lykins
Steven D. Mank
Scott M. Mann
Dean Stephen W. Mazza
William S. Mills
David D. Moshier
Jane P. Murphy
Thomas V. Murray
Ellen G. Neufeld
C. David Newbery
Clayton Norkey
Larry Nuss
K. Kirk Nystrom
Prof. Uma S. Outka
Barbara Lerner Palan
Diana G.P. Palenz
Jerry R. Palmer
Ellen C. Parker
Lowell C. Paul
John C. Peck
Kathy Stan Perkins Davis
Lynette Petty
R. Kent Pringle
Jessie S. Pringle
Nicole Proulx Aiken
Thea Rademache
Sheila M. Reynolds
Amber Robbins
Michael E. Rockers
Larry R. Rute
Frank C. Sabatini
Richard Sanborn
Stephanie N. Scheck
Robert T Schendel
Robert Schmisseur
Meredith A. Schnug
Richard S. Schoenfeld
A. J. Schwartz
Mary Jo Shaney
James R. Shetlar
Linda Scott Skinner
Stephanie M. Smith
Steven P. Smith
William Sneed
Jeffrey S. Southard
Frank G. Spurney, Jr.
Shea E. Stevens
Jennifer Stevenson
Mikel L. Stout
S. Phillip Stover
Ron Svaty
Gabrielle M. Thompson
John D. Tongier
William L. Townsley
Donald W. Vasos
Mr/Ms Brad & Kimberly Vining
Gregory N. Wagner
Dale and Lynn Ward
Alan D. Weber
Lane E. Williams
John R. Wine Jr.
Molly M. Wood
Marcia A. Wood
Richard D. Woods
Stanley N. Woodworth
Teresa A. Woody
Thomas E. Wright
Ann Dexter M.
D. Zimmerman Eggers
We simply don't have the staff available statewide to fully meet the civil legal needs of low income Kansans. 
Donors like you are increasingly important to our efforts to provide equal access to the justice system to vulnerable Kansans.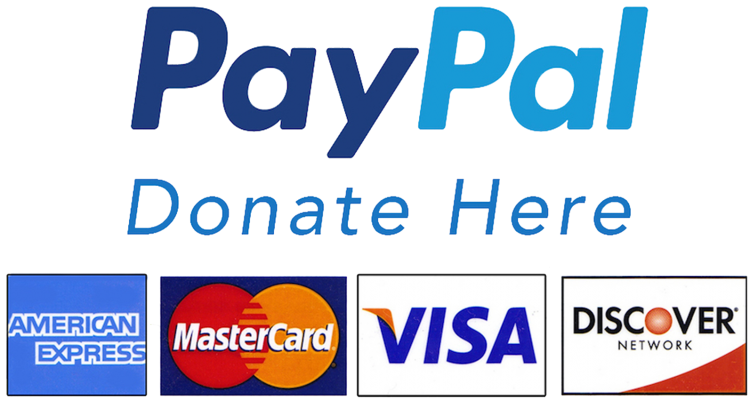 Please donate through the PayPal link above, or if you prefer, you can send a check for a donation to KLS to:
Kansas Legal Services
712 S. Kansas Ave., Suite 200
Topeka, KS 66603
Donations are tax deductible.
Kansas Legal Services is a non-profit corporation that is funded through federal, state and local grants, low fees, and donations.    
We appreciate the generous donations we receive that help us serve more than 20,000 Kansans per year. Thank you for your support!
Here is a copy of our 2020 Form 990
Here is the KLS 2020 Annual Report