Getting Legal Assistance
 1-800-723-6953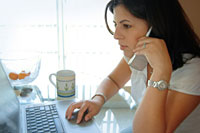 You can apply for legal assistance either by phone or by filling out our Online Application. 
Individuals seeking legal assistance should first submit an application.  Please be advised that our field offices cannot answer any questions or give any legal advice until they have an application on file.
Call toll-free 1-800-723-6953 (Monday through Friday from 7:30 a.m. to 5:45 p.m.) to see if you are eligible for legal assistance. Hablamos Español. Kansas Legal Services  provides civil legal advice and representation at no cost or  at reduced fees to income eligible individuals. Click here to find out how to prepare for calling our Central Intake Line.
If you would prefer to fill out our Online Application, click here. You will be notified within two business days to determine if you are eligible for services.  You can fill out the Online Application anytime day or night.
KLS handles cases in the areas of consumer, employment,  family, juvenile, health, housing, income maintenance and individual rights law. Please see our complete listing of cases we may be able to take.
KLS also operates a number of hotlines for individuals with special needs. Hotline hours are generally 8 a.m to 5 p.m., Monday through Friday.
Brochure on services offered by Kansas Legal Services
---
Elder Law Hotline
1-888-353-5337
For any Kansan over 60.
Access to Justice Advice Line
Please obtain this phone number from your local district court clerk.   This hotline provides special access to district courts and individuals referred to KLS by district courts in pro se (self-represented) and domestic law matters.
Children's Advocacy Resource Center
1-877-298-2674

A resource for guardians ad litem, social workers, judges and child advocates.
Lawyer Referral Service
1-800-928-3111 
Through this line we can help you find a private attorney with the expertise you need.  Or if you just have a few questions you may obtain inexpensive advice by paying $3 per minute.  You only pay for the time when you are on the line with the attorney.  The average Lawyer Advice Line attorney time in 2010 was 9 minutes, so the average cost for a legal consultation was less than $30.
Foster Care Helpline
1-877-298-2674 or  234-8345 in Topeka
The Helpline provides accurate and timely information about the foster care system to foster children, parents and others.