Kansas Legal Services provides forms as a service to low income Kansans and to assist overburdened Kansas courts.  Forms are easy to use, interactive forms that will produce documents necessary for filing or responding to legal actions in Kansas district courts.
Please note, it is always advisable to talk to a lawyer before proceeding in a court case on your own. Please read our important warning.
Live help is right here
If you have questions about how to complete the forms when using the interactive interview, you can use our LIVE HELP option. Just click on this:
Live Help is generally available Monday through Friday from 8:30 a.m. to 4:30 p.m. You can leave a message if Live Help is not available. You will receive a reply by email within two business days.
What you need to use these forms
In order to use this program to make free legal documents, you will need Adobe Flash player: This is very standard software that you can download free.  Click here to download.  If you aren't sure if you have it already, try to download it.  The program will let you know if you have the software already.
What other software is needed?
The interactive court forms download for printing in Rich Text Format (.rtf), which can be opened in any word processing program, such as Microsoft Word.
(If you do not have a word processing program, you can download WordViewer here for free so that you can be sure that your document is easy to read.)
Make sure your computer chooses a word processing program to download the documents or you may get errors or "gibberish."  
NOTE TO USERS OF CHROME and FIREFOX:  The backspace button does not work to delete or modify answers in these interactive interviews.  You must use arrows or your mouse to highlight the information you need to change.  Then use the delete key to remove letters, before you can change information. This problem is not experienced in Explorer.
For more help with this free legal forms, visit our Frequently Asked Questions.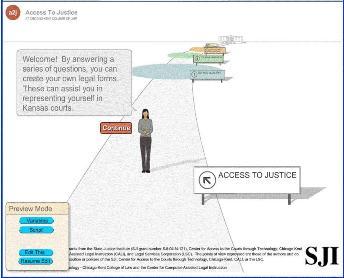 FORMS
Forms are listed below by category.
Family Law/Divorce
Child Support
Name Change
Paternity Action
Use these forms to file a paternity action.  Step by step instructions are a part of the forms when you complete them.   
Final orders in paternity action (coming soon)
Check out our Kansas Paternity Action page with helpful information for parents who are unmarried and need court orders to establish parenting time, custody and child support. 
Identity theft
Check out our Identity Theft page
Protect yourself from identity theft -- from the Kansas Attorney General's website, this information will give you helpful tips.
Forms
Letter to Creditor - Identity Theft  This form is for responding to someone collecting a bill that is in your name, but a bill you did not authorize. You will need a copy of the bill in hand when you start the interview. This might be a credit card statement you received that contains charges you didn't make or authorize.  It can be any situation where your credit or identity was used without your permission.
Credit Report Dispute Letter  Follow the link in this form to complete an interactive online interview that will allow you to create a letter to send to the credit bureau to give notice of this error. If you are seeking investigation and removal from your credit report of items that are the result of identity theft, you will need a copy of your credit report in hand when you start the interview. 
Letter to Debt Collector – Identity Theft  When a debt collector is trying to collect a bill that is in your name but you did not authorize, you will need a copy of their letter in hand when you start the interview.
Code for Care of Children
Expungement of Records
Federal Income Tax
I CAN! E-File partners with TaxACT to enable users to prepare and efile their Federal Tax returns completely free.
File your Federal taxes for FREE!  Click www.taxact.com/icanefile 
The IRS offers Free E-file. 
Guardian/Conservator
Protection Orders
The information on the website of the Kansas Coalition against Sexual and Domestic Violence KCSDV website will provide you with must-know information about Kansas protection orders. They explain important safety considerations, necessary qualifications, court processes, possible relief, resources and other considerations that you should think about before seeking protection orders.
Do You Need a Protection from Abuse Order?
Click here to go to the Kansas Coalition against Sexual and Domestic Violence (KCSDV) website.
Forms
Small Claims Court
State Income Tax
Suspended Drivers License in Kansas
If your drivers license is suspended, you may be able to apply for a restricted license in Kansas. 
Go here to read more and see if you are eligible to request the restricted license.
Kansas Legal Services offers an interactive interview to assist Kansans with suspended driver's licenses who want to write a letter to request a restricted license. The new law helping those with suspended licenses went into effect July 1, 2013.
Form
Authorization Forms
Learn more about interactive forms
To learn more about the interactive project and what to expect when you use the interactive court forms, visit our Free Legal Forms Frequently Asked Questions. We are continually adding new forms, so please check back if you do not find what you are looking for. Many of these forms are also available as PDFs in our Public Law Library. 
The Kansas Judicial Council has the statutory authority to prescribe many of the forms used in legal proceedings in Kansas district courts.  The Council initiates projects which are assigned by the Legislature and requested by the Supreme Court.  One of those projects is the provision of free legal forms.
The Kansas Judicial Branch is the branch of government that oversees the courts. It relies on the Kansas Judicial Council to prescribe and provide most of the forms available, but it also provides a handful of forms that the Council does not.
For more information about self-representation, please visit the Kansas Judicial Branch self-help website.  
These forms are not for commercial use and charging for use of the forms in any way is prohibited.
If you find these free legal forms helpful, please consider making a donation to Kansas Legal Services.  Donations will ensure continued availability and help to create additional free legal forms. Click on the "Donate" button at the bottom of this page.