KLS has a website strictly for volunteer attorneys klsprobono.org.  
The site is free and has many helpful resources for pro bono attorneys in Kansas!  Please check it out and become a member. Pictured: KLS Executive Director Marilyn Harp and pro bono volunteer attorney Jeremy Mai.
If you are not an attorney but need legal assistance, please apply for services HERE or check out our How To Get Help page.
---
Here are resources for attorneys who want to volunteer for Kansas Legal Services, including the application to become a volunteer, information about the Elder Law Hotline, and other news that is relevant for pro bono attorneys. 
---
2018 is the Tenth Anniversary of the National Celebrate Pro Bono Week
National Pro Bono Week is an opportunity to celebrate the difference lawyers make in communities, to recruit and train more pro bono volunteers and to acknowledge the partnerships that form the basis for many of the private bar's successful pro bono efforts.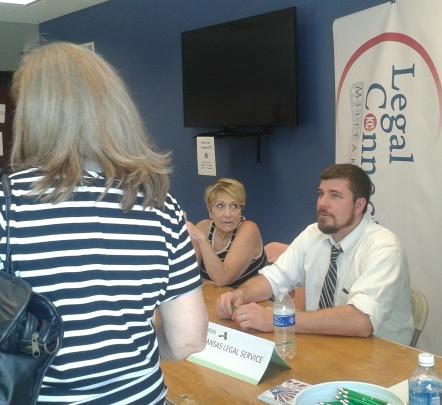 Private attorney Linda Spievak, a volunteer for KLS, and Casey Johnson advise a Veteran.
---
Read the KLS 2018 Private Attorney Involvement Plan.                                                     
---
QUESTIONS AND ANSWERS ABOUT THE KANSAS EMERITUS ATTORNEY PROGRAM
Any attorney who currently has a status of inactive or retired on their law license in Kansas can work with a not for profit provider of civil legal services on a pro bono basis. Kansas Legal Services is such an organization. This practice is covered by 2013 modifications to Supreme Court Rule 208. 
The rule requires that an emeritus attorney provide the services through an approved legal aid organization such as Kansas Legal Services and be under its general supervision. We need to determine that the legal work the attorney is interested in providing is consistent with the needs of Kansas Legal Services' clients and with the available supervision. An attorney interested in working under Rule 208 should complete the attached application providing information regarding time commitment, type of legal work preferred (for example: providing advice to clients, representing in court, drafting documents), and length of commitment. The application should be sent to Marilyn Harp.
Here is an application if you wish to participate.
If you have further questions please contact:
Marilyn Harp
Kansas Legal Services
712 S Kansas Ave, Suite 201
Topeka, KS 66603
785-233-2068
---
Recruiting Kansas attorneys for the ABA project Free legal Answers.org
Learn more by watching this YouTube video: https://www.youtube.com/watch?v=iW1v3hY05CY
Less than 8 minutes will let you learn how you can be involved. 
---
Read the 2018 KLS Private Attorney Involvement (PAI) Plan
---
KLS Pro Bono Application
Here is an application to sign up for pro bono cases. You can also tell us how many cases and the types of cases you prefer.
KLS Pro Bono application            OR Online Application
---
ATTENTION ONLINE SHOPPERS:
Amazon has announced that it will donate 0.5% of each Amazon purchase to a charity of the online shopper's choice. Kansas Legal Services is an option available to you. Just go to Smile.amazon.com and use the search function to find and select Kansas Legal Services, Inc., as your charity and start supporting KLS today.
Domestic Violence Handbook for Attorneys
For Attorneys who represent survivors of domestic violence, a handbook from The National Center on Domestic Violence, Trauma & Mental Health:
Representing Domestic Violence Survivors Who Are Experiencing Trauma and Other Mental Health Challenges: A Handbook for Attorneys
---
Want to Learn More About the Kansas Legal Services Elder Hotline?  
The Elder Hotline has been operated for more than 10 years by Kansas Legal Services.  It was the 2009 recipient of the Kansas Bar Association Pro Bono Award. More than 60 Kansas lawyers are already volunteering for this program.  Want to join them?  Want to learn more?
The Kansas Elder Law Hotline receives calls from Kansans over 60 who are seeking legal information about issues in their lives.  These seniors are given the opportunity of phoning the Kansas Elder Hotline toll free and the calls are transferred to the attorney "on shift."   Legal topics run the breadth of general practice experience. 
Volunteer attorneys are scheduled for a four hour shift every 2 months.  During a typical shift, a lawyer might get three calls.  Shifts are scheduled in advance and attorneys can turn down or change a shift, as needed. 
If you are interested in volunteering, please fill out the volunteer application at the bottom of the page and return it to Cindy VanHoutan at cindyv@klsinc.org .
---
---
How helpful do you find the information on this page?