DONATE to KLS
 

We simply don't have the staff available statewide to fully meet the civil legal needs of low income Kansans. 

Donors like you are increasingly important to our efforts to provide equal access to the justice system to vulnerable Kansans.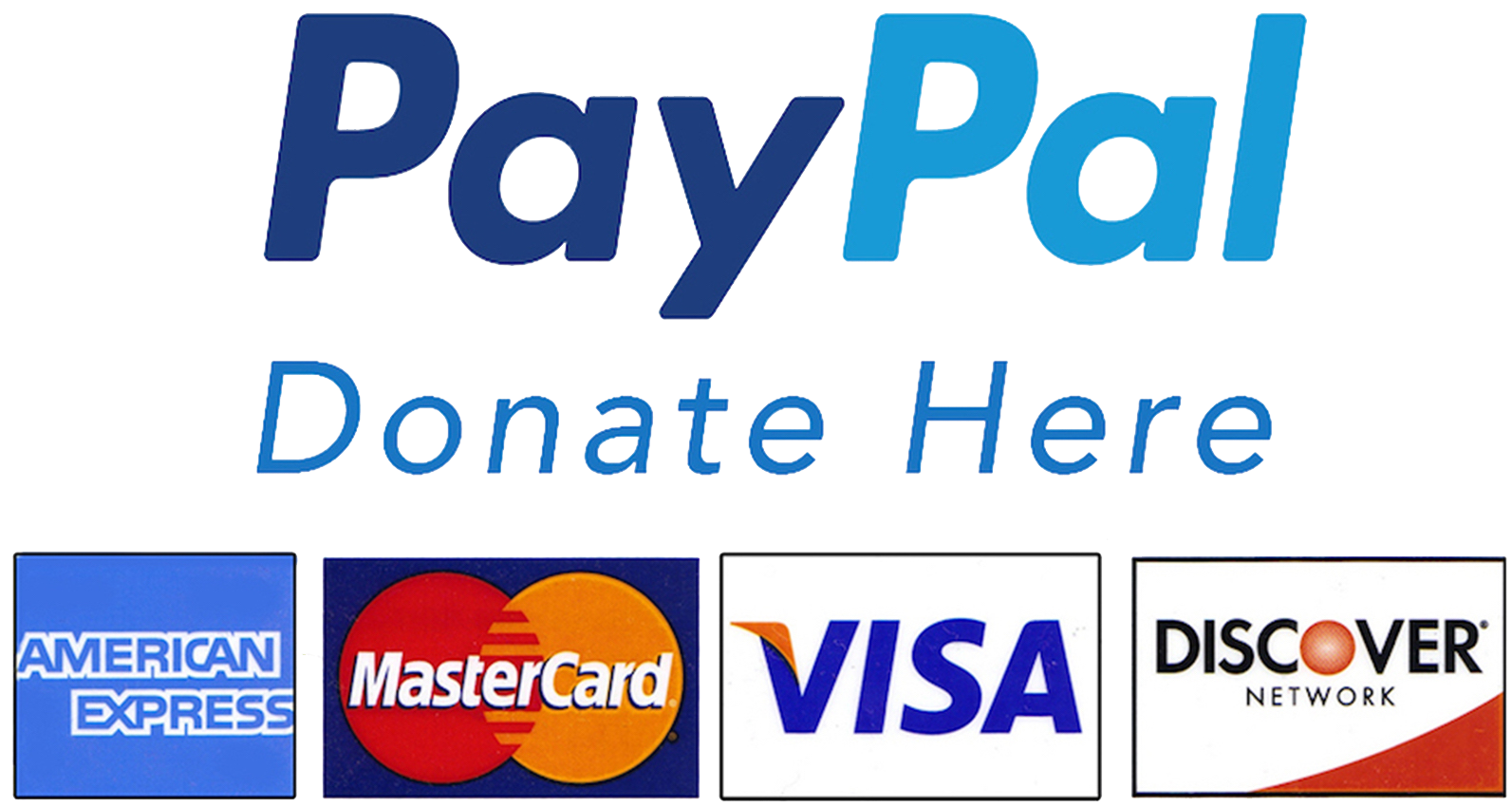 Please donate through the PayPal link above, or if you prefer, you can send a check for a donation to KLS to:
Kansas Legal Services
712 S. Kansas Ave., Suite 200
Topeka, KS 66603
Donations are tax deductible.
Kansas Legal Services is a non-profit corporation that is funded through federal, state and local grants, low fees, and donations.    
We appreciate the generous donations we receive that help us serve more than 20,000 Kansans per year. Thank you for your support!
Here is a copy of our 2020 Form 990
Here is the KLS 2022 Annual Report
Kansas Legal Services thanks the generous donors below who helped us by contributing in 2022 for our work for Kansas families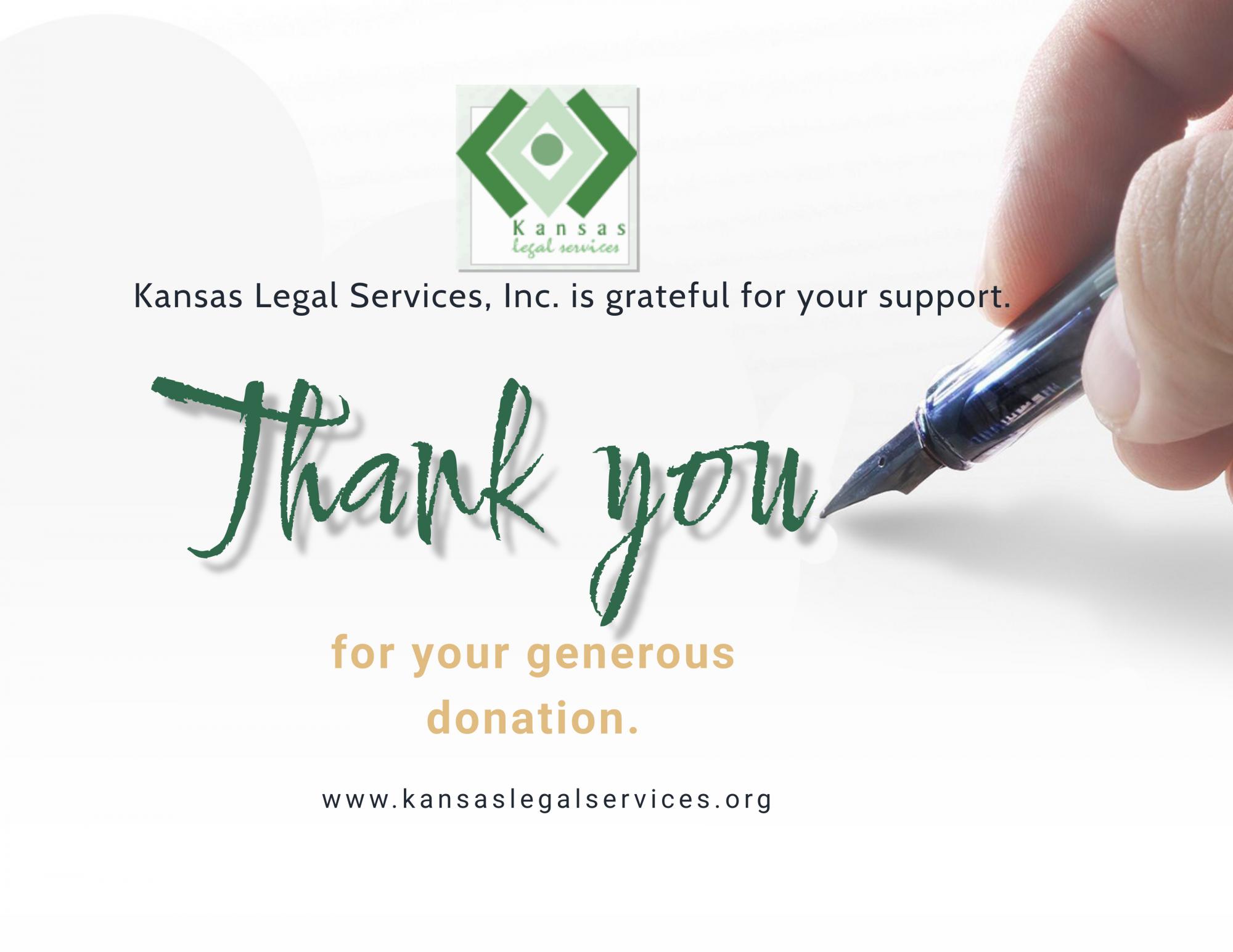 We Are Legal Aid
We Are Legal Aid is an initiative that funds legal aid attorneys for victims of domestic violence in Kansas.
In 2022, KLS represented 3,979 women in cases of domestic violence. In Wichita alone, on Thursday afternoons, there are typically 4 attorneys that handle the domestic
violence docket.
The legal issues in a single case may include victim compensation, employment, housing, eviction, victims' rights enforcement, orders of protection, divorce or spousal support, and child custody, visitation, and dependency.
The law firms who join this campaign have committed to donate $100 per attorney per year to KLS.
Thank you to each of these attorneys and their law firms for joining WE ARE LEGAL AID in 2022:
Cavanaugh, Biggs & Lemon, P.A. Topeka
Frieden, Unrein & Forbes LLP Topeka
Goodell, Stratton, Edmonds & Palmer, LLP Topeka
Henson, Hutton, Mudrick, Gragson & Vogelsberg, LLP Topeka
Irigonegaray, Turney, & Revenaugh, LLP Topeka
Newbery, Ungerer & Hickert, LLP Topeka
Palmer Law Group Topeka
Tuck Duncan Attorney At Law LLC Topeka
Bever Dye, LC Wichita
Fleeson, Gooing, Coulson & Kitch, LLC Wichita
Foulston & Siefkin Wichita/Topeka/Overland Park
Graybill & Hazelwood LLC Wichita
Hinkle Law Firm LLC Wichita
Hite, Fanning & Honeyman LLP Wichita
Hutton & Hutton Law Firm, LLC Wichita
Klenda Austerman LLC Wichita
Martin, Pringle, Oliver, Wallace & Bauer, L.L.P Wichita/Overland Park
Triplett, Woolf & Garretson, LLC Wichita
Martindell, Swearer, Shaffer & Ridenour Hutchinson      
Law Firms Donating in 2022
Adrian & Pankratz, P.A
Clark, Mize & Linville, Chtd
Clayton Financial Services, Inc.
Clinkscales Elder Law
Euler Law Offices, LLC
Galloway Wiegers & Brinegar PA
Henderson Law LLC      
Hoffman Association Law Firm
Law Office of James Bordonaro
Law Office of John D. Gatz
Law Office of Tammy M. Martin, Inc.
Monnat and Spurrier, Chartered
Murphy & Freund        
Pyle Law Office             
Shook, Hardy & Bacon
Stumbo Hanson LLP     
The Reynolds Law Firm, ,P.A.
Watkins Law Office      
Woner, Reeder & Girard, P.A.
Individual Donors in 2022
Martin Ahrens 
Alan Alderson
John Ambrosio
Linden Appel
Charles Apt III
Emily Bailey
Anne Baker
Ernest Ballweg
Jonathan Becker
Mary Lou & Donald Bender
Philip Bernhart
Nathan Bickle
John Bird
Tom & Jo D Boeding 
Donald Bostwick
Curtis Brown
Michael Brown
Anne Burke
George Catt
Melisa Chambers-Williams
Peggy Cobb
Jennifer Cocking
James Concannon III
Travis Cook
Kimberly Corrigan
Whitney Damron
John DeCoursey
Bradley Dillon
Nancy Dixon
Gary Eastman
Michelle Ewert
Mary Feighny
Clint Floyd
Jack Focht
Beth  Foerster
Ashley Foster
Nola Foulston
Charles Frickey
Everett Fritz
Lawrence & Jeanne Gates
Jeanne Gorman
Barbara Greenwood
William Griffin
Angela Gupta
Scott Gyllenborg
Carla Hand
Jason &  Julianne Hans
Nathan Harbur
Marilyn Harp
Abby & Mark Henke
William Hensley
Elizabeth Hiltgen
Martha Hodgesmith
Gary House
Elizabeth Hudak
Larry Irick
Kellie Jackson
Jaanene Jantz
John Jarvis
Rogers Jeffery
Deena Jenab
Lee Johnson
Jill Jolicoeur
Price Josh
Matthew Keenan
Kyler Knobbe
Audrey & Jeremy Koehler
Russell Leffel
Blair Lonergan
Daniel Macias
Steven Mank
Susan Marshall
Mary Martin Buhl
James Maurer
Stephen Mazza
Stephen McAllister
Thomas McCue
Sean McGivern
Jack McInteer
William Mills
James Murphy
Thomas Murray
C. Newbery
Clayton Norkey
Larry Nuss
Timothy O'Brien
David O'Neal
Carl Ossmann
Uma Outka
Diana Palenz
Jerry Palmer
Ellen Parker
Lowell Paul
Lynette Petty
John Pickett
Richard Porter
Douglas Pringle
Jessie Pringle
Kathleen Reeves
Sheila Reynolds
Michael Rockers
Larry Rute
Stephanie Scheck
Robert Schendel
Meredith Schnug
Albert & Jane Schwartz
William Seiler, Jr.
Mary Jo Shaney
James Shetlar
Franklin Silerl
Stephanie Smith
Steven Smith
Ardith Smith-Woertz
Martha (Marty) Snyder
Shea Stevens
Jennifer Stevenson
Mikel Stout
Laura Strongman
Jessica  Suhr
John Tongier
William Townsley
Martin Updegraff
Robert Vancrum
Barbara Varanka
John Vetter
Brad & Kimberly Vining
Catherine Walter
Amy Walters
Dale and Lynn Ward
Alan Weber
Kristin Westgard
Lane Williams
John Wine Jr.
Winton Winter, Jr.
Molly Wood
Richard Woods
Stanley Woodworth
Teresa Woody
Thomas Wright
Ann Zimmerman
Richard Zinn
Please donate through the PayPal link above, or if you prefer, you can send a check for a donation to KLS to:
Kansas Legal Services
712 S. Kansas Ave., Suite 200
Topeka, KS 66603
Last updated on .