Here are resources for attorneys who want to volunteer for Kansas Legal Services, including the monthly Pro Bono Newsletter, the application to become a volunteer, information about the Elder Law Hotline, and other news that is relevant for pro bono attorneys.
Click here to see the SEPTEMBER 2015 KLS Pro Bono Newsletter.
---

Celebrate Pro Bono Events in October 2015   
The American Bar Association has designated October 25-31 as Celebrate Pro Bono Week 2015.
We are excited to participate, as it gives us an opportunity to thank our pro bono volunteers, as well as raise awareness of Kansas Legal Services and its ongoing effort to provide equal access to the justice system for low income Kansans.
Currently planned events sponsored by the Kansas Bar Association include:
Jeans for Justice - where law firms allow their employees a casual dress day, in exchange for a donation to Kansas Legal Services.
KBA Supply Drive - encouraging attorneys to donate unused office supplies to their local Kansas Legal Services office.
Other events are being planned. Watch for an updated list on the KBA website and here.
---
KLS Pro Bono Application
Here is an application to sign up for pro bono cases. You can also tell us how many cases and the types of cases you prefer.
KLS Pro Bono application            OR Online Application
---
FREE CLE - OCTOBER 23
Kansas Legal Services is hosting a CLE on OCTOBER 23rd, 2015, at 712 S. Kansas Ave., in Topeka, for attorneys. Stayed tuned for more information.
Please contact cindyv@klsinc.org to request more information.
---
ATTENTION ONLINE SHOPPERS:
Amazon has announced that it will donate 0.5% of each Amazon purchase to a charity of the online shopper's choice. Kansas Legal Services is an option available to you. Just go to Smile.amazon.com and use the search function to find and select Kansas Legal Services, Inc., as your charity and start supporting KLS today.
---
KLS 2015 Private Attorney Involvement Plan
The Board of Directors for Kansas Legal Services, Inc. has approved the 2014 Plan, outlining the methods through which KLS will involve private attorneys in efforts to provide civil legal services to low income persons.  You can read that plan here: 2015 Plan. 
---
Domestic Violence Handbook for Attorneys
For Attorneys who represent survivors of domestic violence, a handbook from The National Center on Domestic Violence, Trauma & Mental Health:
Representing Domestic Violence Survivors Who Are Experiencing Trauma and Other Mental Health Challenges: A Handbook for Attorneys
---
Want to Learn More About the Kansas Legal Services Elder Hotline?  
The Elder Hotline has been operated for more than 10 years by Kansas Legal Services.  It was the 2009 recipient of the Kansas Bar Association Pro Bono Award. More than 60 Kansas lawyers are already volunteering for this program.  Want to join them?  Want to learn more?
The Kansas Elder Law Hotline receives calls from Kansans over 60 who are seeking legal information about issues in their lives.  These seniors are given the opportunity of phoning the Kansas Elder Hotline toll free and the calls are transferred to the attorney "on shift."   Legal topics run the breadth of general practice experience. 
Volunteer attorneys are scheduled for a four hour shift every 2 months.  During a typical shift, a lawyer might get three calls.  Shifts are scheduled in advance and attorneys can turn down or change a shift, as needed. 
If you are interested in volunteering, please fill out the volunteer application at the bottom of the page and return it to Cindy VanHoutan at cindyv@klsinc.org .
---
---
Pro Bono Summit, 2014
Please click here to read an article written by the Kansas Bar Association President Gerald Green, about the Pro Bono Summit: Partnerships in the Public Interest, co­-hosted by the Kansas Bar Association and Kansas Le­gal Services on December 17, 2014, in Topeka.
The article was published in the Journal of the Kansas Bar Association, February 2015. Mr. Green stated that: "Many of us also commit to pub­lic or civic service in a variety of ways and to a variety of causes, organizations, or entities. Yet another way as attorneys we can uniquely make a difference in our communities and state is to offer pro bona services to those who cannot otherwise afford legal counsel."
---
Chief Justice Nuss Thanks Volunteer Attorneys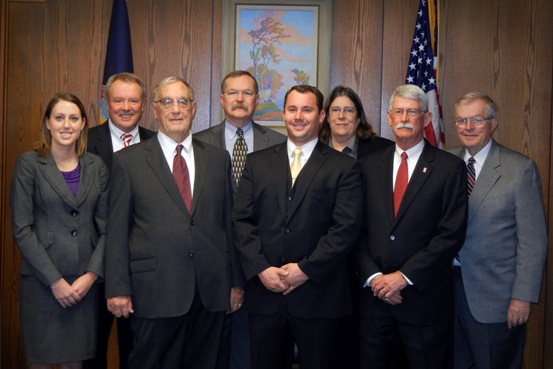 Left to Right: Allison Maxwell (Sloan Law Firm); Lee Smithyman (President, KBA); Edward Weigers (Galloway-Weigers & Brinegar); Supreme Court Chief Justice Lawton Nuss; Dustin Crook (Bryan Smith Law Firm); Marilyn Harp (Executive Director, Kansas Legal Services); Stephen Cavanaugh (Cavanaugh & Lemon, P.A.); John Sanderson (retired Judge, Emporia, KS).
On November 5, 2012, Kansas Supreme Court Chief Justice Lawton Nuss thanked a few of the 100 volunteer attorneys who have signed up for a program built on the collaboration of the Kansas Bar Association and Kansas Legal Services to provide legal assistance at no cost to returning Servicemembers and their families.
Servicemembers deployed since 9/11 have faced challenges unlike anything before in our country's history. They've left behind jobs, friends, and daily routines to face the stress of combat, long deployments, and uncertain conditions.
Coming home can mean facing painful reintroductions to everyday life and troublesome changes: reemployment, financial challenges, difficult family conditions, and in many cases, legal issues that developed while they were proudly defending our country. Help them face their legal battles at home.
Become a part of the Kansas Bar Association and Kansas Legal Services statewide effort to make military legal assistance more accessible.
Attorneys may sign up here. 
---
How helpful do you find the information on this page?