Contact Us
Individuals seeking legal assistance should first complete an online application or call the KLS Statewide Client Intake at 1-800-723-6953.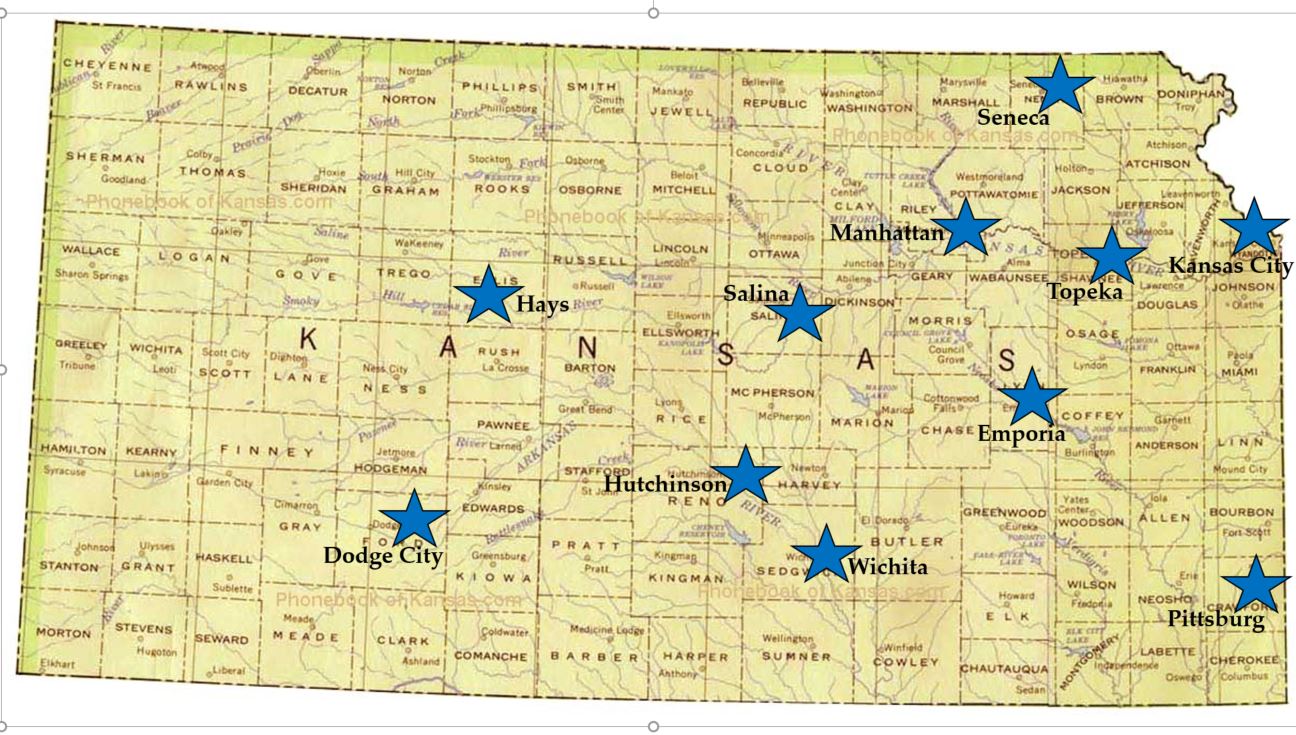 Dodge City

701 E. Comanche, Suite F

Dodge City, KS  67801

620-227-7349 telephone

 

Emporia

527 Commercial, Suite 201

Emporia, KS  66801

620-343-7520 telephone

 

Hays

2017 N. Vine

Hays, KS  67601

785-625-4514 telephone

Hutchinson

206 W. 1st St.

Hutchinson, KS  67501

620-694-2955 telephone

Kansas City

400 State Avenue, Suite 1015

Kansas City, KS  66101

913-621-0200 telephone

 

 

Manhattan

205 S. 4th St., Suite G

Manhattan, KS  66502

785-537-2943 telephone

 

Pittsburg

408 N. Walnut P.O. Box 1509

Pittsburg, KS  66762

620-232-1330 telephone

 

Salina

2302 Planet Avenue

Salina, KS  67401

785-825-8147 telephone

Seneca

203 N. 8th St.

Seneca, KS  66538

785-336-6016 telephone

Topeka

712 S. Kansas Ave., Suite 201

Topeka, KS  66603

785-354-8531 telephone

Wichita

340 S. Broadway, 2nd Floor

Wichita, KS  67202

316-265-9681 telephone

 

Application Line:

1-800-723-6953

 

Or apply online:
Please click on the office name to get the contact information, see a map of the office location, and read news of that office and its service area.
Program Contact Information
Click here to find the address and phone number of a program to suit your needs.
Contact Us Regarding Legal Help
Click here to Get Help Now.
About Us
To read about KLS and our history, please click here.
Brochure on services offered by Kansas Legal Services.
It is the policy of Kansas Legal Services, Inc., to make no distinction in the provision of legal assistance to eligible persons on the basis of race, color, religion, sex, national origin, age, disability, marital status, gender orientation, political affiliation or any other consideration prohibited by law.

 

If you believe you have been subjected to discrimination by KLS, you can make a report through the client grievance procedure, outlined here:   https://www.kansaslegalservices.org/node/2021/kls-client-grievance-procedure  
Last updated on .